If you spend a day wandering along small alleys and corners of Old streets in Hanoi, you probably find a huge number of stores or simply food selling carts and middle aged women carrying baskets loaded with "Banh mi" – Vietnamese bread. Banh mi is not only the most rustic dish with locals for early breakfast but also remarked as one of the top 10 best sandwich and attracts a lot of visitors from all over the world.
Vietnamese Banh mi 
Banh mi is a delicate dish of combination between culture and cuisine of the East and the West. Under French domination, they have introduced baguette into Vietnam and had a big influence in Vietnamese cuisine. However, Banh mi only became more popular in our country after ending the French war in 1954 when the locals created a unique bread stuffed with pork meat, herbs, cucumber, embodying Vietnamese food. Later, after Vietnam war in 1975, Southern people moved to America, Europe and Australia that helps spreading the popularity of Banh mi to the world. 
Preparing ingredients and making bread 
It is true to say that Banh mi has grown up with my childhood. Indeed, when I was still a child, every morning my mom often gave me some money to buy a bread for breakfast. At that time, in my hometown, even children or aldult really liked the taste of small pieces of bread dipping into cow condensed milk, which probably seems to interest every child's taste at my generation.
When I moved to higher grades, Banh mi also changed. I started to buy a bread loaded with pork sausage, hot dog, coriander, cucumber, pickled carrot slices or simply topped with pork floss with sauce of chilli and mayonnaise or egg and pâté that is often made from liver and organs of animals. Inside the bread, it looks like opening the whole world of flavors when all spices and ingredients melt in your mouth and hearing the sounds of crispy toasted crust seems wake up every taste of eaters. Each bite of banh mi is a small piece contributing to build a big picture of bread, reflecting special traits of the unique cuisine of Vietnam.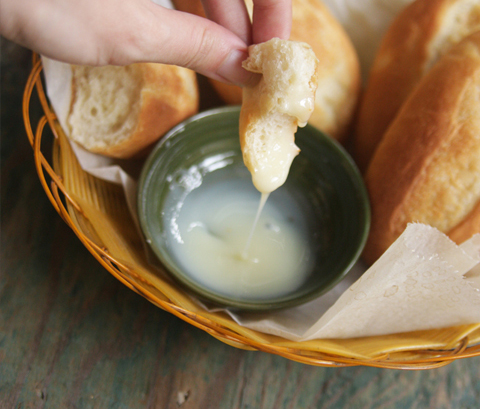 Banh mi dipping in condensed milk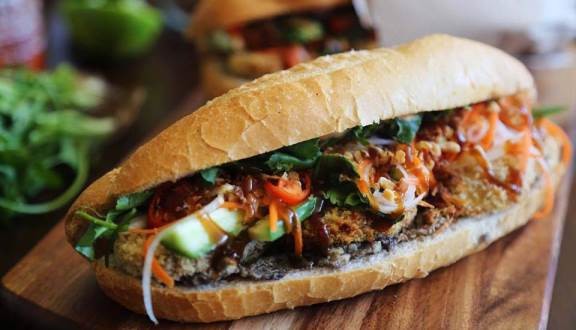 Bread stuffed with cucumber, sausages and pork floss
Not only normal tourists come to visit Vietnam falling in love with Banh mi but also top famous chefs and bloggers such as Anthony Bourdain when he travelled to Hoi An in the centre of Vietnam. He was one of the foreign cook who is obsessed with Vietnamese cuisine and spent lots of time studying about food. 
Anthony Bourdain ate Banh mi Phuong in Hoi An
If Pho is regarded as the most exquisite dish of Hanoians, standing for the soul of Vietnamese cuisine culture; Banh mi is definitely a perfect choice of quick meals and awarded as the representative of street food. It will be a pity for missing Banh mi when you spend a holiday or pay a visit to Vietnam.