The aggressive urbanization of Ho Chi Minh City is only a facade. Under the surface is a raging patriotism, a keen sense for renewal and preservation, and a silent nod to tradition – so inextricable, that it is hard to see this south Vietnam city without peeking into its fierce history.
A freedom hard earned – and really only a generation ago – you can still spot communist flags and buntings fly high at important public buildings aside from schools and iconic landmarks. Anywhere in Vietnam – you could be in the old-world Hanoi or its more flamboyant southern city. Local folks go about their business with a sort of contentment – perhaps a sense of pride – and you never see flared tempers, disgruntled workers, or for that matter, worried women. Women here love to socialize, easily work late shifts at bars, cook at restaurants, play instruments, sing, but in all this they love to dress up and step out, though not always with a companion.
It is the merging of the old world with the new that strikes a first-timer most about Ho Chi Minh City (still Saigon to the locals). The traffic is undoubtedly dizzying, but at arm's length are sidewalks broad as boulevards opening up frequently into pockets of greenery, and then meandering past all the important landmarks. From eating at chic restaurants, sightseeing, to bargain hunting at the Ben Thahn market; spend a few days drinking in the energy of this pulsating, historical city.
While there is much to discover by simply walking about, these 5 activities should definitely be on your radar.
1. Vespa tour of Ho Chi Minh City: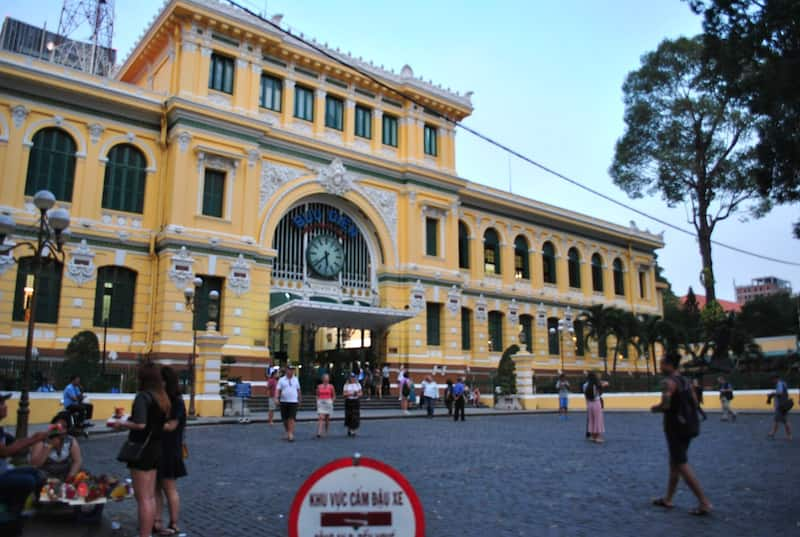 This is the most efficient – and loved – way to go around this historical city which is a fascinating maze of architectural gems from the colonial era and swanky neighborhoods of steel and glass. The vintage vespa is typical of Saigon, and the locals prefer to zip down the busy streets in it
Your driver will take you around to a gamut of sites such as the Tao Dan Park, ideal for spotting unique butterfly species, the popular freedom street later named Dong Khoi after Saigon's communist takeover, among others, before stopping over for a traditional Vietnamese fare at a swish sidewalk cafe. This vespa ride will be a high-point of your cultural experience of Vietnam.
2. Visit to Cu Chi Tunnels:
A significant landmark in the unification of Vietnam, this elaborate network of tunnels spanning a few hundred kilometers, were originally dug with hand in a forest terrain in the Cu Chi district of south Vietnam, by the communist forces in the 40s as they fought the French to end the centuries-old colonial rule. The tunnels, however, played a wider role in the Vietnam War till the fall of Saigon in 1975. The Viet Cong soldiers used the tunnels to escape the US bombing and built in its dark recess trap doors, channels of communication, arms factories, living quarters, and hospitals. It is believed that over 45,000 Vietnamese men and women died in the Vietnam War trying to defend the Cu Chi Tunnels.
A somber landmark, today visitors crawl into the tunnel, eat a typical meal that soldiers thrived on during the war, try their hands at an AK-47 rifle, and view booby traps.
3. Mekong Delta cruise: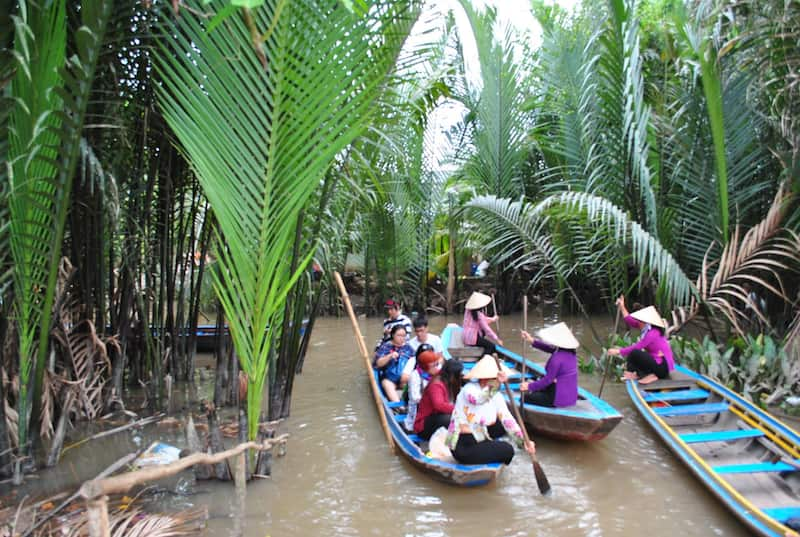 A couple of hours bus ride from downtown Ho Chi Minh City brings you to the harbor of Mekong River. You can opt for a day cruise or spend a couple of days on board to experience life in Mekong. About 2 million people call Mekong Delta their home and usually engage in fishing, farming among other activities. Sample some honey tea with banana crispies at a bee farm, watch women wrap coconut candies at a candy factory where fresh coconut is extracted and then blended with caramel before turning them into the famous Vietnamese coconut candies.
Stop by for a meal of fish and rice – the fish freshly caught from the river, steamed or fried as per your choice – at an island before proceeding to an alligator farm to take part in a feeding session. Drift in a traditional wooden boat through a canopy of mangroves and let the gentle breeze numb your senses for a while.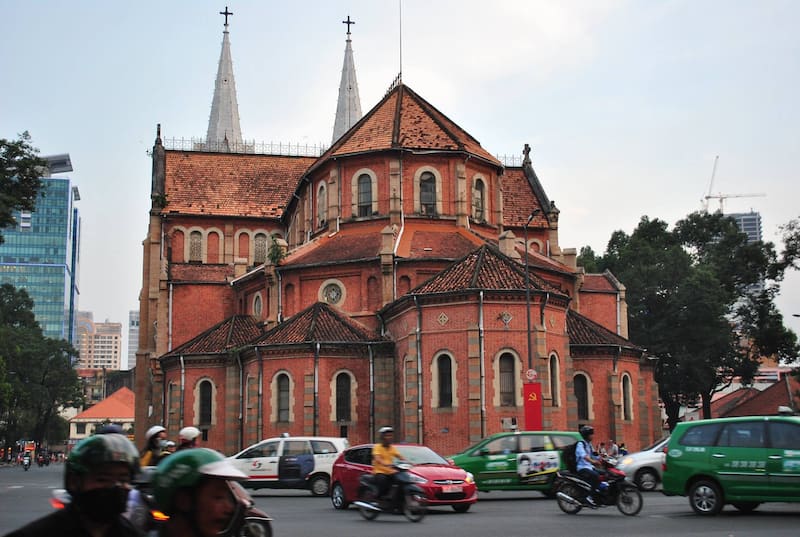 When you make your way from the swanky, new-age quarters of District 1 to the downtown that houses the Notre Dame Cathedral and the colossal Saigon Post Office, you will be at a loss of words. A late 19th-century structure, the Saigon Post Office is a glorious melange of French, Renaissance and Gothic architectural styles, opening up photo opportunities.
Inside you can pick up the choicest of souvenirs, send a picture postcard to your friend in any part of the world, or simply sit on a bench and soak up its quaint atmosphere. Another example of colonial architecture, the Reunification Palace should be on your city tour list, particularly for its role in ending the Vietnam War.
5. Saigon street food by night: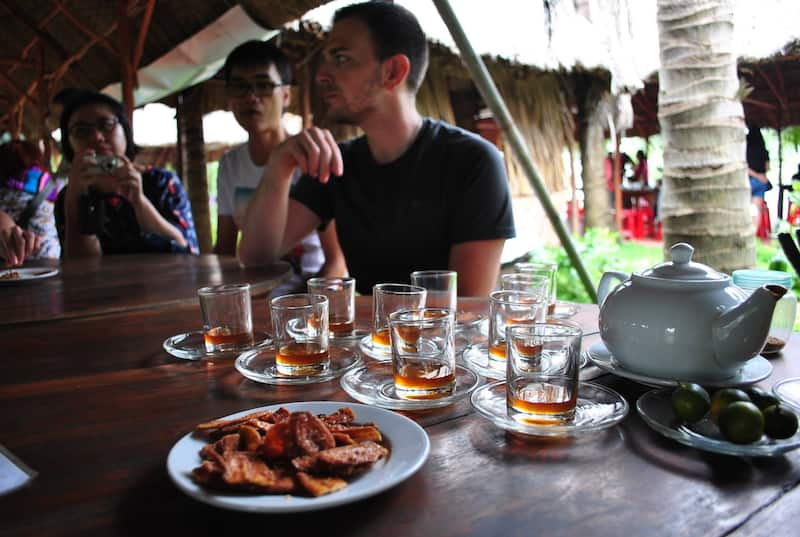 After a bout of shopping at the night market at Ben Thanh, drop your bags at one of the food stalls lining the street, and take in its infectious energy. The night eating out scene of Ho Chi Minh City is stuff of legends. Under one roof, you have so many nationalities ordering a horde of dishes, some you have never seen or even heard of, making for quite an explosive set-up.
No way you can gloss over the Pho, Vietnam's national dish, a hot broth with rice noodles, meat, herbs, cilantro. Post that try the Banh Mi, a soft, oven-fresh bun with a stuffing of pork, beef, or chicken. This is Vietnam's version of Calzone. The service is prompt at these stalls, and you invariably end up ordering everything on your neighbor's plate.
Do Vietnam, but it is a sacrilege to skip Ho Chi Minh City.