Hoi An is a famous ancient town of Vietnam. Thanks to its history as well as its unique culture, there are thousands of tourists come here every year. And of course, most of them want to be back Hoi An. If you fall in love with this town too, so what is the best way to discover completely this destination?? For me, Hoi An motorbike adventure is the perfect one. And I would say if you have never been on Hoi An motorbike adventure, you haven't been in Hoi An.
Thin this article, I want to show you what I know about Hoi An motorbike adventure based on my experiences. You will get all you need for it and I'm sure that this short ride will bring you lots of joy.
1. Hoi an motorbike adventure – wide range of choice
Motorbike taxi or Easy Rider
Like in every Vietnamese city, you can pump into a motorbike taxi rider easily. They are always ready to offer you a tour around the city about 1 or 2 hours. Some of them are very helpful and nice, some are not. But if you find a guy that you feel like him, it's worth a try for Hoi An motorbike adventure with him. This is because he can ride him to the most splendid places and fill your curiosity with his stories.
In addition, you also want to choose the right guy for your safety and your character. Despite of several hours, he will be your companion. In Hoi An, there also are a service called Easy Rider for Hoi An motorbike adventure. It's not a company, it's a brand that local taxi rider tend to join in. It offers you with various riders who can take you a half day tour or several day tour depending on your purpose. They usually ride big bikes with passenger seat equipped with back support.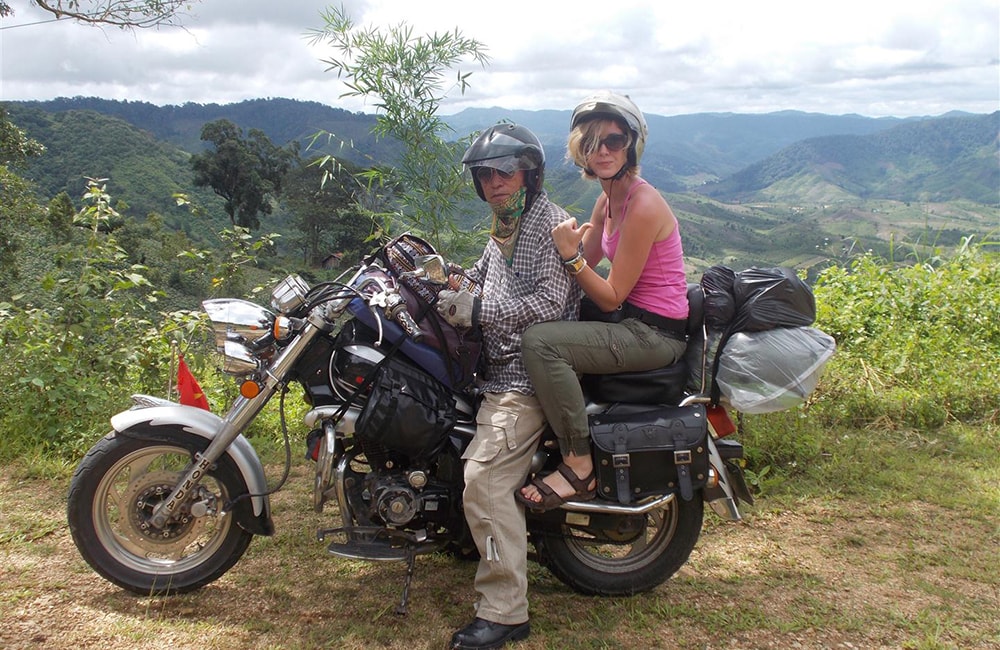 If you want to take a tour of more than one day, for your safety on Hoi An motorbike adventure, you should prepare a good helmet. Taxi riders, they do have spare one for you but its low quality can't guarantee your safety. Therefore, you should buy or borrow from your hotel a good one. And the most important thing to create a great Hoi An motorbike adventure tour is interacting with the riders. Don't hesitate to tell him where or what you want to see, when you want to stop to wander around green fields or take photos.
Hoi An vespa adventure
This is a popular tour in Hoi An. They will provide you with clear itinerary containing interesting stops, excellent services. And you will ride on a real Vespa. In this tour, your rider is only the rider, they are not guide. And they may not speak English at all.
There is a professional guide who accompanies you. They can answer all your questions not only in your Hoi An motorbike adventure but also when the tour completes. They are very helpful and friendly.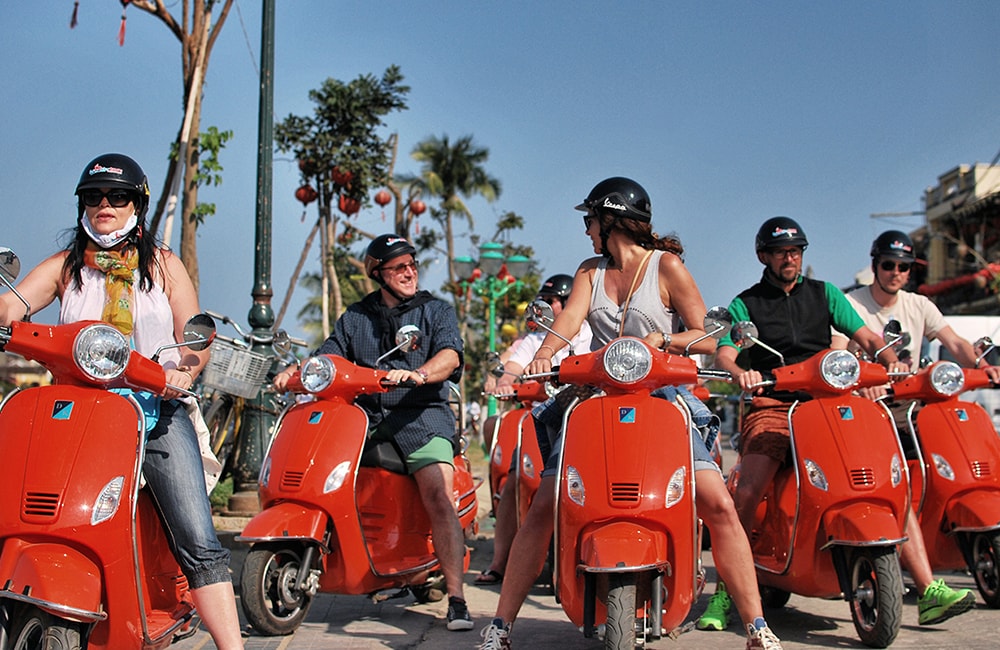 The thing I don't like much about this tour is timing. The fix tour starts at 8am to 1pm, when you can get all the sunshine and the heat. It's quite inconvenient for your Hoi An motorbike adventure, especially in the summer.
There is also customized tour, but of course it will be more expensive. You can choose to start your journey at early morning or in the afternoon.
Go on your own Hoi An motorbike adventure tour
If you can ride, why not! Let's hire a motorcycle and prepare a good map. I guess you've heard about terrible traffic accidents in Vietnam and you might hesitate to take a ride there. But I would say that it's ok because Hoi An is very peaceful and not too much traffic like in Hanoi or Ho Chi Minh city. You can totally ride around easily.
In your own Hoi an motorbike adventure tour, you can go outside the city to Tra Que village, Cua Dai beach, My Son sanctuary,… If you feel strong enough, you can go for biking in Hoi An.
Then, if you are interested in go on Hoi An motorbike adventure by yourself, follow me, you will know more about riding a bike in Vietnam
2. Things you should know before Hoi an motorbike adventure tour
I know the first thing come into your mind is hiring a motorbike. It's very easy for you to get a bike in Hoi An town. They only charge you from 80.000 to 100.000 VND depending on which kind of bike you want. Before paying for the bike, check twice the tires, brakes and other parts to make sure that it works well for your safety on Hoi An motorbike adventure.
One thing you must remember is that it's illegal to ride a motorbike without Vietnamese license. But the police won't check you if you obey the laws. In addition, you have to wear helmet, it's obligation. There will be possibility to be pulled over and fined if you don't wear one. If not about fine and police things, you should do it for your safety.
You can borrow a helmet at a shop where you hire the bike. Or if you do care about your safety, you can buy a new one. It doesn't cost you much. It's only about 20$ for a full face helmet with good quality.
You will find there are 2 types of motorbike for you. If you just want to take a short Hoi An motorbike adventure around the town, an automatic bike is great. It's easy for you to ride. In contrast, if you take a long ride with a little mountainous terrain, a geared one is more appropriate. It helps you saves the fuel and handle with some sudden situation in the way better. Moreover, it's also cheaper than an automatic one.
There is little gas in your bike when you take it from the shop. Therefore, the next thing you need to do before your Hoi An motorbike adventure is filling the gas. Find a petrol station and get your gas filled. But there are some stations try to overcharge you by some tricks like the one on Cua Dai road. You definitely avoid it.
In case of something happens, it depends on you to fix it right away or not. The locals are always willing to show you where you can fix your bike. However, if you can't find help, you should ask for the number of the shop where you hire the bike. And they can come to assist you.
Timing is also an important factor in Hoi An motorbike adventure tour. This is because the town is closed to motorbike everyday in different times: 8.30 – 11.00 in the morning, 14.00 – 16.30 in the afternoon and 18.30 – 21.00 at night. At these times, you are not allowed to park the bike in the town.
In addition, although the traffic on Hoi An isn't as busy as in Hanoi or Ho Chi Minh. You still need to ride carefully, especially at weekend. This is because there are a lot of drunk drivers and they might cause some terrible accidents.
That's all my experiences about Hoi An motorbike adventure. It helps you save your time to move from this destination to another and you won't feel too tired. If you need any advice or have any question, I'm glad to help you.