In comparison to other countries in Southeast Asia, I would say that getting a visa for travel to Vietnam is quite complicated and difficult. There are some countries are exempt from Visa for travel to Vietnam, but if you don't come from these countries, you might be denied for this easily. So if you are planning a trip to Vietnam, you should read this article to know how exactly to get a visa for travel to Vietnam before being rejected.
1. Which countries are free from visa for travel to Vietnam
If you come from some specific countries, you don't need visa for travel to Vietnam. However, the number of day exempted is various and for some countries it's accompanied by conditions. Almost of these countries have bilateral relationship en economy y commerce with Vietnam
Number of staying day
Countries
 ≤ 14 days
 Brunei and Myanmar
 ≤ 15 days with Condition*

* The entry date must be at least 30 days from the previous exit. Otherwise that person is required to have appropriate visa to enter Vietnam.

 Belarus, Denmark, Finland, France, Germany, Italia, Japan, Korea, Norway, Russia, Spain, Sweden and UK
 ≤ 21 days
 The Philippines
 ≤ 30 days
 Cambodia, Indonesia, Kyrgyzstan, Laos, Malaysia, Singapore and Thailand
 ≤ 15 days
 For travelers staying in Phu Quoc Island only
 ≤ 90 days
  APEC business travel card holders
You come from these countries and you want to stay longer, you must have your visa for travel to Vietnam extended or renewed.
2. Visa extension and renewal visa for travel to Vietnam
First of all you need to differentiate the visa extension and renewal visa. With visa extension for travel to Vietnam, you have new staying duration. The conditions that allow you to have your visa for travel to Vietnam extended are your visa is single entry only it has to be correspondent to your requirement of extension. For instance, if you want to stay 1 more month, you visa for travel to Vietnam must be 1 month single, 1 month multiple entry, 3 months single or 3 months multiple entry.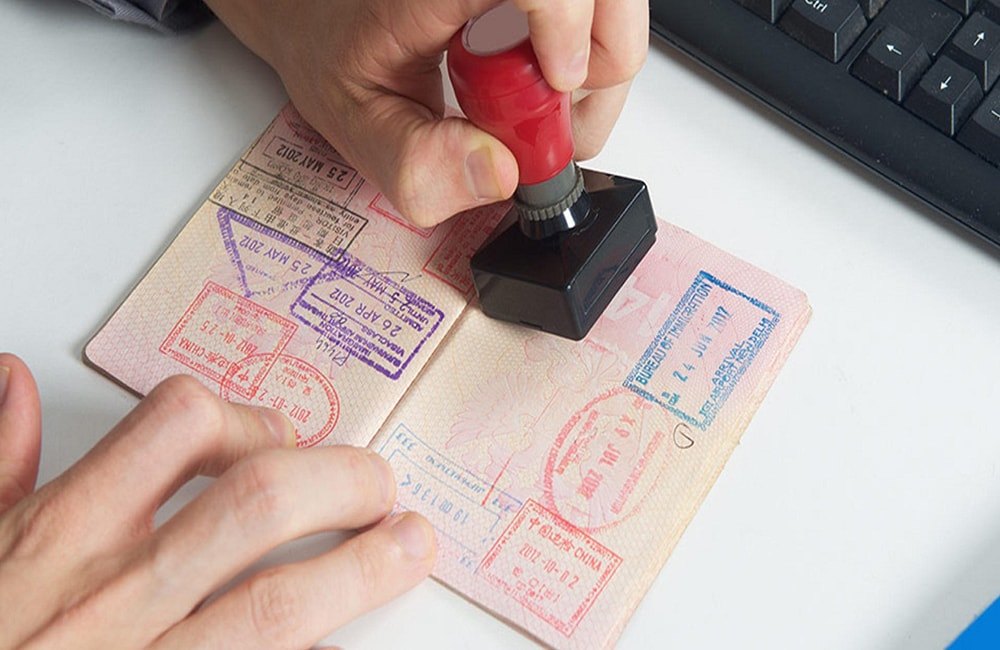 For renewal visa, you will get a new visa stamp and visa sticker on your passport. And the duration of staying is 3 months maximum. Moreover, renewal visa for travel to Vietnam is suitable for citizen from countries with visa exemption.
In addition, the price for visa extension is much cheaper than renewal visa. This is because with the later, you have to pay stamping fee and visa sticker fee. And if you go to a travel agency or visa center in Vietnam, the prices are also different depending on the where you do it and the amount of time for extension of renewal.
3. How to get a visa for travel to Vietnam
Getting a visa for travel to Vietnam from Vietnamese Embassy
The most thinkable way to get a visa is visiting Vietnamese Embassy in your country. The procedures and visa fee might vary depending on which embassy you work with for your visa for travel to Vietnam.  And this process will take to a week, so don't wait until you only have few days left to apply.
In order to save up your time, you should read carefully the procedure and regulations of Vietnamese Embassy in your country on their website. And prepare required documents and fees before going to the embassy.One thing you should know is that Vietnamese Embassies will be closed in Vietnamese national holidays and holidays of the local country.
E-visa System
On February 1, 2017, Vietnamese government implemented an E-Visa system. With this system you can simplify the process of visa for travel to Vietnam. To apply for e-visa you have to complete forms on 2 websites http://www.xuatnhapcanh.gov.vn and http://www.immigration.gov.vn.
You also will be asked to pay a non-refundable fee online (about 25$). And after 3 days, you will know your visa is accepted or not. If you are eligible and accepted, you need to print out your e-visa and show it when you arrive in Vietnam.
Visa on arrival
With this way, you have to apply for a Visa Approval Letter online, and you do it through a travel agency. It's different from E-visa. This is because this latter is released by companies not the government and it can guarantee you entry to Vietnam.
Please remember that the visa on arrival for travel to Vietnam only works in one of major international airports: Tan Son Nhat, Danang, Noi Bai. You can get it by following steps:
First step: Apply for Visa Approval Letter online
You will be charged around 20$ for your online application and the process will take 2 or 3 days to complete. If you want to hasten the process you can pay more. In some cases of requirement for visa for travel to Vietnam, you have to send the scan of your passport. The travel agency will take care of all formalities and communication for your visa.
Second step: Print out your approval letter
If your application is accepted, the travel agency will send you the file of approval letter by email. You should print it clearly and into couple of copies. It's normal, if you see lots of other names on the letter. It's for your name that can be included in the list of approval.
Third step: Book flights
Flights can be booked without your visa approved, but you have to present your Vietnamese visa or approval letter to be able to board.
Fourth step: Once arrival…
You have to go to the visa on arrival window. You will be received the visa application form while you have to give your passport, visa approval letter and passport photo to the official.
Then, when you are called you will receive your passport with Vietnam visa sticker inside. Depending on the queue, this process may take about 30 minutes.
Of course you have to pay fee for visa on arrival. For a 30-day visa, you have to pay around 45$, then you will have a visa for travel to Vietnam. This fee is different from the fee for approval letter.
One more thing, you are also required for 2 passport photos. These photos must be recent with while background and official size of 4×6 centimeters. If you forget the photos, you can take them at some kiosks at the airport.
That's all you need to know about how to get a visa for travel to Vietnam. It's a long and sometimes tough process which requires some luck. But I believe that if you prepare well for it, you can get a visa for travel to Vietnam quite easily.