Myanmar national costume consists of two sets, one for men and one for women. The traditional costume for men is called Longyi, which looks like a dress for women, often ideally combined with the shirt or traditional Taipon. When wearing this dress, men tie it up around the waist and it is normally 2 metres (6.6 ft), running to the feet. However, there are different sizes so that it is suitable with different shapes of body. Because the dress is simply folded, men often have to adjust it when moving from places to places. Longyi has no pockets so if ones want to carry stuffs, they need to put these things outside around the dress, at the waist's position.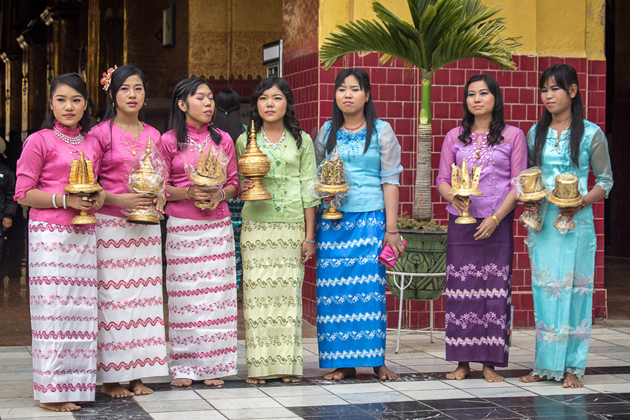 Thummy is the costume of Myanmar women, being similar to that of Lao or Thailand. The top wear blouse runs at waist level. The collar varies among many styles such as round-neck, polo-neck and V-neck. There is a 5-inches-wide stripe of cotton attached to the top of the skirt called "Ahtet hsin", keeping the skirt tightly to avoid incidents.
People in many countries have traditional clothes in special occasions whereas Myanmar wear their costumes everyday. The reason is they are comfortable under the country's weather and it is also easy for people to take off the clothes when needed. While Myanmar men wear dark colors clothes, women dress in colorful ones with diverse patterns, especially the flower. Both of them wear flip-flops. However, in special occasions, people dress in European clothes with shoes. And the most interesting use of the costume is being a raincoat or a sun-avoiding coat when necessary.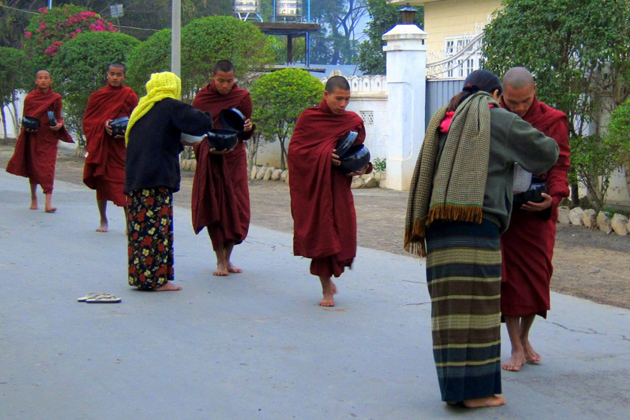 Myanmar people is not fussy about dressing in particular and living manner in general. Women rarely wears makeup. They just apply Thanakha powder to avoid the sunshine. Therefore, when visiting Myanmar, tourists may feel close to this countries where there are full of friendly and hospitable people. It is really worth for anyone coming to Myanmar, trying on Longyi or Thummy and experiencing the lifestyle here so that tourists will have a true impression on this lovely country.