Transportation is an important factor for every travel. I believe that airplane is the most popular one you use when traveling. In addition, it is the safest transportation among others. In your trip to Vietnam, you also need it too, if you want to discover different part of the country. Like other countries, Vietnam has its own domestic airlines with the variety of price and quality. Therefore this article will be Vietnamese airlines reviews, which helps you to get the most appropriate flight in Vietnam.
1. Vietnamese airlines review – how many airlines in Vietnam?
There are several airlines in Vietnam but today in my Vietnamese airlines review, I only mention commercial airlines. This is because you will need it the most in your trip to Vietnam.
You can easily find that Vietnam has 3 main commercial airlines: Vietnam airlines, VietJet Air and Jestar Pacific Airlines. Amongst them, Vietnam Airlines is the national flag carrier with long history from 1956. With a long period of development, the flight network of this airline covers almost throughout Vietnam.
The two later are low cost airlines. Jestar Pacific Airlines was founded in 2008 with the co-operation of Vietnam Airlines and the Qantas Group (Australia). And the last one was established in 2007.
Besides of commercial airlines, Vietnam also offers charter airlines with Vietnam Air Service Company (VASCO), Hai Au Aviation and Vietnam Helicopter Corporation.
2. Vietnamese airlines review
Now is the most expected part. I will show you the details of Vietnamese airlines review. Let's see and choose your favorite!
Vietnam airlines
This airline is not low cost, so they don't offer you promotion or cheap price for 2 way ticket. I spent months for best price, but I had to accept the flights with more than 2 million VND from Hanoi to Ho Chi Minh City and it was economy class. Maybe you think that in my Vietnamese airlines review, this airline might be the best.
However, I don't think so. You can't choose your seat with economy class and you have to be at the airport at least 3 hours before time if you don't want to wait for ages in long queue. When I arrived there were 3 lines Economy, Business and Sky Priority. The line was long-tail and there were only 2 counters serving. And i had to wait almost an hour to be checked in. therefore in this Vietnamese airlines review article, I advise you to come very early.
The thing made me give this airline 1 point is that it rarely delays in comparison with others in this Vietnamese airlines review. You will get on the plane and take off on time. If they tell you your flight is delayed, it will be because of subjective reasons.
Compensating for the long wait, I really liked its cabins. They were spacious and super clean. You will have enough room to stretch your legs in the comfortable way, which is different from budget airlines in this Vietnamese airlines review. And this helped my back a lot in my 2 hour flight. They also serve food and drinks on plane. Their menu is various with different Vietnamese and western food. And I also hear that they usually update their menu. Not mention the flavor, for me it plus 1 more point for this airline.
Anyway, except the long queue with fewer counters, I would say this airline will give you the comfortable experiences on plane (only on plane). So if you care more about cabin services, you should travel with this airline. It deserves your money one way or another. One thing I want to tell is that they also offer the transportation service to the airport. You need to call and ask for it. And I think it's free like others in my Vietnamese airlines review.
Jetstar Pacific Airlines
For the way back from HCMC to Hanoi, I booked Jetstar Pacific Airlines. It was really cheap with only more than 1 million VND. I was on a budget trip, so I really liked this price.
One problem that I think both low cost airlines in this Vietnamese airlines review get is delay. Yes, my flight was at 10.45am and I got an email that they delayed this flight for 2 hours. If I wanted to fly sooner in different flight I needed to pay more.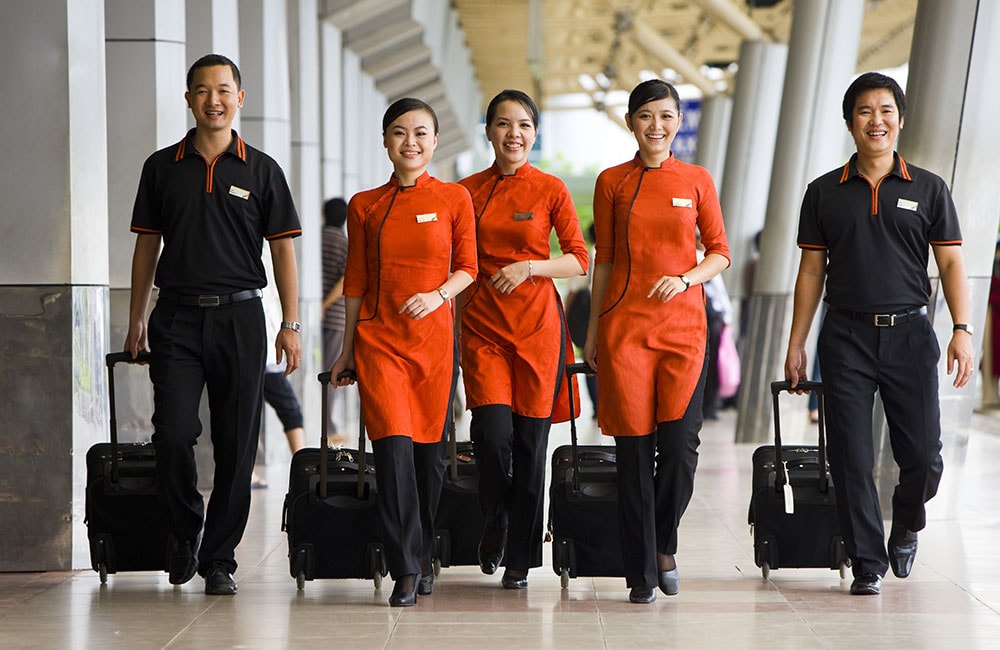 Different from Vietnam Airlines, there was no queue when I went to check-in at Tan Son Nhat airport. And more than 5 counters were available anytime. Therefore, I finished my check-in in 5 minutes and have lots of time to relax (also because of delay). I think this situation is permanent because all Vietnamese airlines review of my friends also said that.
With lower price you can't expect an up-to-date cabin with spacious seat. The plane is small and not convenient for moving. Food and drinks are available for purchase with the same price like other airlines.
For a budget flight, I think Jetstar Pacific is not bad. If you don't mind being delayed, you can fly with them. I will give this airline 6/10 in my Vietnamese airlines review.
VietJet Air
We come to the last airline in the list of Vietnamese airlines review. As I can see, this airline is quite popular among Vietnamese. This is because they always have promotion with free tickets (not included tax, insurance,…). That sounds interesting and economic.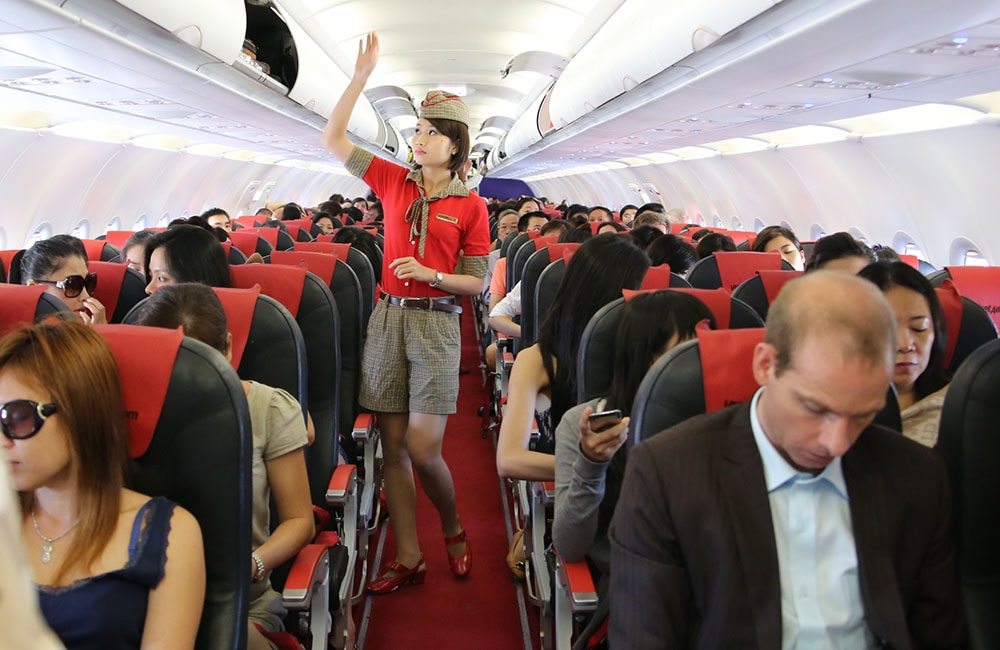 In comparison with Jetstar, the price of this airline is almost the same. However, without promotion and in tourist season, the price maybe as high as price of Vietnam Airlines. So if you are lucky enough, you only have to pay more than 1 million VND for 2 way ticket.
Like Jetstar Pacific in my Vietnamese airlines review above, almost flights are delayed sometimes. They can send you an email for delay an hour and before boarding 30 minutes you might be told your flight is delayed again. It's very annoyed.
Because of its popularity, there are lots of counters available for check-in at the airport. But you still need to line up for check-in. the interior of the plane is quite similar to Jestar plane. Not much space, narrow alley,…
In my opinion, if you wanna take a cheap flight with no more than 2 hour on the sky, you can travel with Jetstar or Vietjet. Their services are not prominent compared to Vietnam Airlines (according to my Vietnamese airlines review), but you get what you pay for.
3. Vietnamese airlines review – tips for easy flights
Always show up at the airport at least 2 hours before boarding. You will have to spend more than 30 minutes on check-in at counter, then security check. So for not missing your flight please arrive at the airport soon.
As you all know in general and as my Vietnamese airlines review in particular, if you book flights for travel to somewhere, you should book in advance at least 4 or 5 days. The nearer the day of flights are, the more money you have to pay.
Always check your phone and your email. The airline can send you a message of delay anytime, especially low cost airlines.
Overall, with convenience of Vietnamese airlines, your trip to Vietnam will be easier. I hope my Vietnamese airlines review can help you and have a smooth travel.